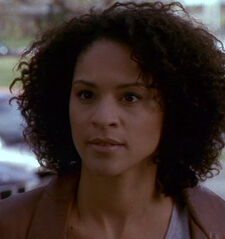 Jackie Zambrano, played by Karyn Parsons, was a recurring character introduced in Melrose Place, the second series of the Beverly Hills, 90210 continuity, appearing in season 7.
Jackie was a friend of Eve Cleary and was her cell mate in prison, where she was locked up for theft. After Eve's marriage to Peter hit a snag, Eve went to see Jackie, down on herself and broken. After Eve tried to get Jackie to run away with her and start over, Jackie was prepared to go, but decided to approach Peter Burns with her whereabouts. Peter went and found Eve, convincing her to come home with him.
After Jackie had to go into the hospital after being assaulted, she and Eve were confronted about being ex-cons by Irene Shulman, who was looking to dethrone Peter as chief-of-staff. Jackie decided to take matters into her own hands and robbed Shulman at gunpoint, stealing her car in order to go back to prison, where she felt more comfortable than in the real world.
Ad blocker interference detected!
Wikia is a free-to-use site that makes money from advertising. We have a modified experience for viewers using ad blockers

Wikia is not accessible if you've made further modifications. Remove the custom ad blocker rule(s) and the page will load as expected.