Jackie Taylor
Comments

0
1,070pages on
this wiki
Jackie Taylor
General Information
Birth date

1940s/50s

Occupation

Housewife

Relationships
Family

Ed Taylor †
Kelly Taylor (daughter)
Erin Silver (daughter)
David Silver (step-son)

Romances

Mel Silver (husband, divorced)
Bill Taylor (husband, divorced)
Don

Series information
Series
Portrayed by
First episode
Last episode
Jackie Taylor, played by Ann Gillespie, is a recurring character introduced in the first series of the Beverly Hills, 90210 continuity, who reappears in the fourth. She is the mother of Kelly Taylor and Erin Silver, and the grandmother of Kelly's son Sammy.
Beverly Hills, 90210
Edit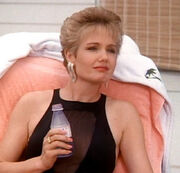 In the pilot episode, Jackie was played by actress Pamela Galloway, but was thereafter played by Ann Gillespie for the rest of the character life. Jackie was a famous model when she was younger, until she had her first daughter Kelly Taylor and got married to millionaire Bill Taylor (whom she later divorced). Jackie is introduced as the perfect mom funny and flexible; however Jackie had an addiction to drugs and alcohol, which led to her making a scene at the mother/daughter fashion show. Kelly found her passed out drunk at her house, and as Jackie had often promised to be a better parent without follow through, Kelly decided to move in with the Walsh family. Jackie asked Kelly for forgiveness and agreed to go to rehab after being confronted by Mrs. Walsh.
After her return she stayed clean and her relationship with her daughter changed for the better. Later Jackie met Mel Silver, the father of Kelly's friend and classmate David Silver, and they fell in love and got married. In Season 3 Jackie gave birth to her second child Erin Silver. Jackie stayed clean during the entire run of the original series. Jackie later divorced Mel when she caught him cheating with his secretary but ultimately decided to forgive him and they got back together. Jackie's relationship with Kelly had difficult moments in later seasons, with Kelly often having trouble letting Jackie in to her life, such as when Kelly was burned during the season five house fire. Jackie showed up to the hospital to take care of her and offered to move in with her to help Kelly heal and rest but the offer was declined. However the two grew closer as Jackie helped Kelly decide what to do about her pregnancy in season seven, and before Kelly's wedding to Brandon in season eight, Jackie told Kelly that she was proud of her and she really loves her. Jackie was last seen in the series finale with her husband Mel at her stepson's wedding.
Missing Years
Edit
Jackie divorced Mel again after he cheated on her. This led Jackie to relapse and start abusing alcohol again, she became distant towards Kelly and began referring to her as her niece to the men she dated. Things between her and her younger daughter Erin became complicated, Erin need to escape so as not see her mother's drinking and to stop from fighting with her all the time. Jackie became careless about her and didn´t notice when she was not sleeping at home.
Ann Gillespie returned as Jackie in the
90210
episode "Lucky Strike." Following another falling out with Mel, Jackie became an addict again by turning to alcohol. She had been living with her youngest daughter Erin, a.k.a "
Silver
," in the gap between the two shows. Like Jackie's strained relationship with Kelly, Jackie is revealed to have raised Erin almost the same way that she raised Kelly; by paying little to no attention to her daughter when she was in need of support. Due to Jackie's drinking, Silver decided to stay at a homeless shelter because she didn't want to see her mom that way. With the intervention of yet another daughters family (the Wilsons), Jackie was confronted again about her addiction, as the Wilson's contacted Kelly and filled her in on the situation. She visited her mother and confronted her on her behavior.
Jackie, with a drink in her hand, stated that Silver was fine and was probably staying over at a friend's. Kelly relayed the truth and stated that she was concerned about her sister, since she didn't want history to repeat itself. The two argued as Silver came in. Silver tried to calm Jackie down but her efforts were in vain. It was revealed that Silver never told Kelly about Jackie's situation because she was aware of the fragile relationship between her sister and her mother. Kelly then took Silver with her and stated that she'd be staying at her place for the time being. Jackie mocked Kelly by pointing out that she was already raising Sammy without the father. The two then left as Jackie saw them exit.
Jackie's second appearance in 90210 occurred in the episode "Off the Rails." When Silver disappears, Kelly and Ryan visit Jackie to find out if Silver was with her. Jackie was seen entertaining a younger gentleman and kept referring to herself as Kelly and Silver's "aunt." She then chastised Kelly for failing to keep an eye on Silver. Jackie also says that she always knew where Silver was when Silver lived with her.
In the second season Silver and Jackie have started to bond with each other more as a result of Jackie's sobriety, and Silver tells Kelly that she should spend more time with her but Kelly declines, having been let down by Jackie too many times. Silver and Jackie's relationship grows to the point where Silver attended Jackie's AA meetings, but when Silver found out that her mom was trying to buy her affection by buying her a new car Silver stopped talking to her mother.
When Silver eventually finds out that her mother has cancer, she goes to see her whenever she can, and even moves in with Jackie again. Jackie tries to make up for missed time by throwing her birthday parties for all the ones she missed; however Kelly is still trying to decide if she wants her mother to come back into her life. She is reluctant because of all of the pain and suffering she put Kelly and Silver through over the years. Kelly finally decides to see her mother for the last time to support her and Silver. Jackie then dies in Silver and Kelly's arms.
In the third season of 90210 Silver decided to organize a fundraiser for cancer to honor the memory of her late mother. Naomi tells Silver the if Jackie was alive she would be proud of her hard work.
In the fourth season of 90210 Silver discovers that she has the cancer gene like her mother and her other relatives.
When Navid's sister goes missing Silver says it's normal and she used to do it when she was living with Jackie and ended up coming back to the house later.
Jackie is also mentioned when Ivy is struggling with her dying husband Raj. Silver talks to her and says that her mother died of cancer and she knows what she is going through.
Pamela Galloway was first portrayed as Kelly's mom in the pilot episode.
It can be assumed that since Jackie's father was listed as Ed Taylor in the credits of the episode I'm Back Because, that Jackie's maiden name was also Taylor.