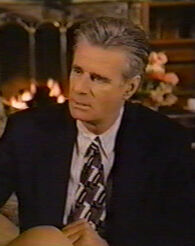 Jack Michaels, played by Lyman Ward, was a character introduced in Models Inc., the third series of the Beverly Hills, 90210 continuity.
Jack was the ex-husband of Hillary Michaels and the father of David Michaels. He maintained a cordial relationship with Hillary years after their divorce, often lending her money. Within the series, Hillary approached him to help bail out the Models Inc. Agency when they were met with financial trouble, but Jack denied her request, telling her she should think about quitting and enjoy her life.
Ad blocker interference detected!
Wikia is a free-to-use site that makes money from advertising. We have a modified experience for viewers using ad blockers

Wikia is not accessible if you've made further modifications. Remove the custom ad blocker rule(s) and the page will load as expected.