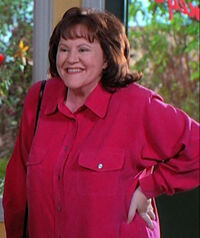 Hilda Morris, played by Edie McClurg, is a recurring character introduced in Melrose Place, the second series of the Beverly Hills, 90210 continuity, appearing in season 5.
Hilda was a woman who came into Sydney's and fell into a display, knocking it down on top of her and injuring her neck. Hilda decided to sue Sydney and Samantha Reilly for her injuries at the advice from sleazy lawyer Harry Dean. When Sydney visited her in the hospital, she seemed polite and fine, albeit sore. However, after going to see Harry to settle injuries, Sydney found her in a wheelchair with several casts on her, obviously a scam artist.
Sydney set out to prove she was a fake and she saw her faking her injuries, but her video camera ate the tape and she left with no proof. Hilda then added harassment to the lawsuit and filed a restraining order against Sydney.
However, outside of court, Sydney once again confronted her and accidentally knocked her down the stairs of the courthouse in front of the judge, pretty much sealing the fate of her lawsuit.
Harry would later tell Sydney that Hilda was a former stunt woman who knew how to fall and would be relocating to Florida to retire in peace.