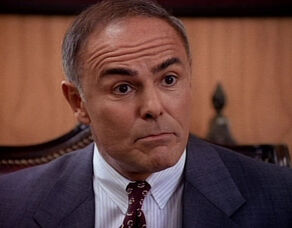 Henry Waxman, played by John Saxon, was a recurring character seen on Melrose Place, the second series of the Beverly Hills, 90210 continuity. He appeared in season 3.
Henry was a civil law attorney who was hired by Jo Reynolds in her case against Dennis and Marilyn Carter over the custody of her baby. Henry was astounded at all of the ridiculous things Jo and her roommates had been through and his defense of Jo against the Carters was useless once all of it came out in court.
After Jo had schemed with Kimberly Shaw to keep her baby by conspiring to legally declare it stillborn, Kimberly stole Jo's baby and kept it for herself. Jo approached Henry for legal methods to get her baby back, but Henry told her to find a criminal attorney.
However, he later defended Jo after she was shot in the back by Dennis while trying to retrieve her kidnapped baby. The baby ended up being given up for adoption.