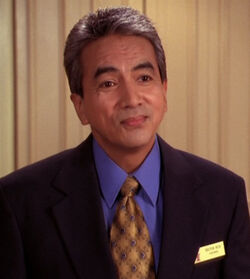 Hector, played by Joe Torrenueva, was a recurring character on Beverly Hills, 90210, the first series of the Beverly Hills, 90210 continuity. He appeared in season 10.
Hector was the manager of the Beverly Royale Hotel where Dylan McKay spent most of his childhood and lived in season 10. Hector was apparently a friend of Jack McKay, though in season 10, was unaware of Jack's supposed death.
Hector looked out for Dylan during his childhood at Jack's request. As an adult, Hector considered Dylan a friend and looked out for his interests while staying at the hotel. After two children kept playing pranks on Dylan and the rest of the hotel guests, Hector had to reluctantly fire the boys' mother, but Dylan stepped in and found them a youth center run by Andrew Emery to spend the day so that they wouldn't bother the guests.
Ad blocker interference detected!
Wikia is a free-to-use site that makes money from advertising. We have a modified experience for viewers using ad blockers

Wikia is not accessible if you've made further modifications. Remove the custom ad blocker rule(s) and the page will load as expected.