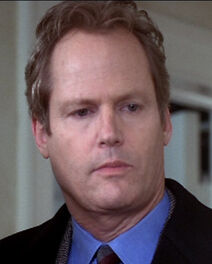 Dr. George Larner, played by Cliff De Young, is a recurring character introduced in Melrose Place, the second series of the Beverly Hills, 90210 continuity, appearing in the sixth season.
Dr. Larner was a man who came to Los Angeles to interview Dr. Brett Cooper for a job with his firm in Pennsylvania. Although he initially seemed like your typical friendly executive, he soon saw Megan and began sexually harassing her. He informed her that for Coop to get the job, Megan would have to sleep with him. She didn't stand for his behavior and threatened to reveal to his wife what he was doing.
After Brett and Megan moved into a new house, George showed up and tried to rape Megan, but Coop saved her and tossed George out of his house. Coop was later given the choice of either the job or Megan.
Ad blocker interference detected!
Wikia is a free-to-use site that makes money from advertising. We have a modified experience for viewers using ad blockers

Wikia is not accessible if you've made further modifications. Remove the custom ad blocker rule(s) and the page will load as expected.