Ad blocker interference detected!
Wikia is a free-to-use site that makes money from advertising. We have a modified experience for viewers using ad blockers

Wikia is not accessible if you've made further modifications. Remove the custom ad blocker rule(s) and the page will load as expected.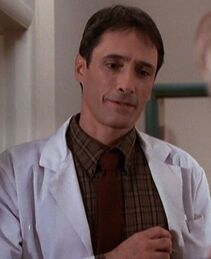 Dr. Gary Monahan, played by George DelHoyo, is a recurring character seen on Beverly Hills, 90210, the first series of the Beverly Hills, 90210 continuity, appearing in the 8th season.
Dr. Monahan was the doctor at the Wyatt Clinic, where Kelly Taylor was employed. Kelly initially had a good impression of him, but the more time she spent with him, the more she felt like she was being sexually harassed. She confronted him and told him she would not stand for any sexual harassment.
Monahan denied any accusations of wrongdoing, but after Kelly made a speech declaring Monahan a great asset to the clinic, cornered her and tried to kiss her. Kelly immediately left the clinic with Brandon Walsh.
Monahan was later exposed after being caught on a loudspeaker and immediately fired, replaced by Dr. John Martin.