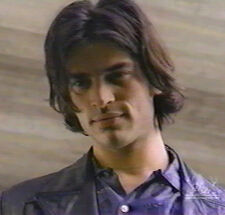 Frank Thompson, played by Johnathon Schaech, was a character introduced in Models Inc., the third series of the Beverly Hills, 90210 continuity.
Frank was the psychotic ex-boyfriend of Cynthia Nichols. He dated her in New Jersey before she moved to California. After their breakup in Jersey, he was sent to prison.
After his release, he began making threatening phone calls to Cynthia and sending her threatening photos. Before long, he started following her around and stalking her.
Cynthia, for her own safety, moved in with Brian Peterson and the two became romantically involved. This set Frank off and he moved in across the street, calling them and threatening them every day. They filed a restraining order against him, but he provoked Brian into attacking him to turn the tables.
Eventually, he abducted Cynthia. When Brian came to her rescue, Frank blindside him and made him watch as he beat and brutally raped Cynthia. However, Brian eventually attacked Frank and the two brawled. Cynthia, however, grabbed the gun and shot and killed Frank. Brian and Cynthia then moved on with their lives.
Ad blocker interference detected!
Wikia is a free-to-use site that makes money from advertising. We have a modified experience for viewers using ad blockers

Wikia is not accessible if you've made further modifications. Remove the custom ad blocker rule(s) and the page will load as expected.