Ad blocker interference detected!
Wikia is a free-to-use site that makes money from advertising. We have a modified experience for viewers using ad blockers

Wikia is not accessible if you've made further modifications. Remove the custom ad blocker rule(s) and the page will load as expected.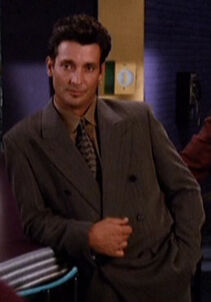 Everett Sands was a recurring character played by Robert Torti on Beverly Hills, 90210, the first series of the Beverly Hills, 90210 continuity. He appeared in Season 8.
Everett was a loan shark who loaned David Silver money when he couldn't pay his rent on the Peach Pit After Dark. He gave him interest rates of 50%, which David was unable to pay back.
After Sands had his goon beat David up, he was saved by Noah Hunter. But, he told David he would be back to get his money. When he came back, Noah paid Sands off and he left David alone.
Later, when David wanted to know who paid off his debt, Valerie Malone approached Sands and learned from sands that Noah was the benefactor.