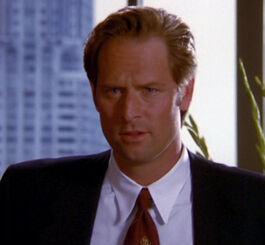 Eric Baines, played by Jeffrey Nordling, was a recurring character introduced in Melrose Place, the second series of the Beverly Hills, 90210 continuity, appearing in season 6.
Eric was the former boss of Amanda Woodward and offered her a job in New York after the collapse of D&D Advertising. Although Amanda initially accepted the job, she later changed her mind after starting a relationship with Kyle McBride. Baines did not accept her backing out of the opportunity with grace.
He later relocated to Los Angeles in order to be closer to Amanda under the guise of investing in her new company, Amanda Woodward Advertising. After making his presence known, he seemed to be focused on ruining Kyle, but at the same time, started romancing Megan Lewis, also hiring her for a job. Yet, he was still obsessed with Amanda.
He had Kyle's Boston restaurant shut down and soon zeroed in on the Los Angeles location, which pulled Taylor McBride into the mess since she owned half of it. After Kyle figured out his motives, including using Megan as a distraction, Amanda confronted him on it and got a confession out of him. They had a heated blowup and Baines promised to ruin Amanda, as well.
He later made an indecent proposal, telling her he'd give her back all of her properties if she's sleep with him. After Amanda turned him down, Megan quit and slapped him. Later, when Amanda had finally agreed to sleep with him, Kyle burst into the hotel room and draped Eric over the balcony in the hotel. Eric claimed he didn't sleep with her in order for Kyle to reel him back in.
At the wedding of Billy Campbell and Samantha Reilly, Baines made one last effort to provoke Kyle by telling him that he did sleep with Amanda. Kyle then verbally assaulted Baines outside the wedding and sent him on his way back to New York.