Ad blocker interference detected!
Wikia is a free-to-use site that makes money from advertising. We have a modified experience for viewers using ad blockers

Wikia is not accessible if you've made further modifications. Remove the custom ad blocker rule(s) and the page will load as expected.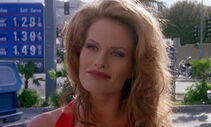 Elle, played by Monika Schnarre, was a recurring character seen on Beverly Hills, 90210, the first series of the Beverly Hills, 90210 continuity. He appeared in Season 5 & 6.
Elle was a male transvestite who made a very convincing woman. He first met Steve Sanders in Palm Springs during the Season 5 finale and the two struck up a flirty relationship. Steve, however, had no idea Elle was really a man. So, when they began to make out and Steve found himself with a handful of rubber breasts, he freaked out and ran away, despite Elle believing he knew the entire time.
Almost a year later, Elle ran into Steve and Clare Arnold at a clothing store. Despite Steve's insistence that Elle was a man, Clare didn't believe him. Later, however, they ran into him again while attending dinner with Clare's father, Chancellor Milton Arnold. The Chancellor had not had a date in over ten years.
Steve, fearing the Chancellor would be devastated if he found out Elle was a man, pleaded with Elle not to hurt the Chancellor. with Clare eavesdropping, Elle agreed to keep quiet since Steve was in love with Clare.