Brenda and Dylan are a fictional romance on FOX teen soap Beverly Hills, 90210. They are portrayed by Shannen Doherty and Luke Perry.
Season 1
Edit
Brenda and Dylan first meet in Higher Education where Brenda decides to dye her hair blonde as she hears Dylan prefers blondes. Her hair comes out looking orange and, embarrassingly, she happens upon Dylan while out for a run in the neighbourhood, where he assures her that the hair color doesn't matter to him. This is the first time the two are seen flirting.
They don't really reconnect until Isn't It Romantic? where Brenda tags along on a hangout with Brandon and Dylan, and when Brandon gets sick, Brenda and Dylan hang out alone. This is the episode where they actually end up kissing and embarking on possibly the most iconic relationship of the series. The same episode also sees the beginning divide of the Walsh household where Dylan is concerned, notably Jim's prejudices that Dylan is like his imprisoned father.
Brenda learns that Dylan is a recovering addict when Dylan helps Brandon, after the latter gets into a car accident while intoxicated[1]. This does not seem to faze Brenda as she and Dylan continue their relationship throughout the remainder of the season. Aside from the common teen relationship hurdles, such as whether both Dylan and Brenda become attracted to other people while together and how they handle that, they also experience some true difficulties, such as when Brenda fears she has a malignant tumor[2].
A pivotal moment in their relationship occurs at the Spring Dance, when they sleep together for the first time. When Jim gets offered double the fees and a promotion back in Minnesota, he takes it and Dylan and Brenda are faced with separation. At the last moment, Jim decides against moving, after seeing the impact the presence of the Walsh family has had on their community.
Season 2
Edit
Brenda feels overwhelmed by the maturity of her relationship with Dylan[3] after a pregnancy scare and decides to end things with him. Dylan is devastated and has a tough time following the break-up, but briefly reconciles with Brenda when he's injured and offered hospitality at the Walsh house. Brenda is adamant about her decision, though, and the couple does not get back together.
Losing My Religion by R.E.M. (plays on the radio in Dylan's car when Brenda breaks up with him in)
Wicked Game by Chris Isaak (when Brenda and Dylan get back together)
– Wildfire
"90210 was a show that not only celebrated girl-empowerment but had this wonderful character named Brenda Walsh [Shannen Doherty] who represented the notion that a teenager could be sexually active and not be a slut, but actually a role model. Unfortunately, my first set of network executives did not see the world as I did. Someday I will write a long article about the censorship that occurred after Brenda lost her virginity at the Spring Dance to her boyfriend (who had been AIDS tested) because she was happy and not full of remorse."[3]
In a 2012 interview with Glamour, Doherty had this to say about the love triangle:
"I actually remember getting that storyline and being incredibly upset about it. And it wasn't because Brenda was losing Dylan. I thought that it was really wrong that we were putting that out there, that we were saying, 'Yes, it's okay for a best friend to fall in love with her best friend's boyfriend and cheat with him.' Where's loyalty, where's friendship?"[4]
screen shots
promos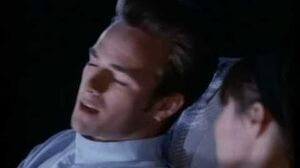 Notes and references
Edit