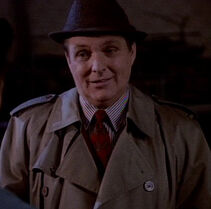 Duke Weatherill, played in season 3 by Billy Vera and Season 8 by John Prosky, was a recurring character seen on Beverly Hills, 90210, the first series of the Beverly Hills, 90210 continuity, appearing in the third and eighth seasons.
Duke was introduced as the bookie of Nat Bussichio, who came in and collected a few bets from Nat every now and again. However, Brandon Walsh later started using Duke as his own bookie, at first betting small amounts of money on sports events. As time went on, however, Brandon began showing signs of gambling addiction and it wasn't long before Brandon owed Duke more money than he could pay.
After Duke showed up and threatened Brandon, Nat stepped in and paid Brandon's debt, telling Duke not to take another bet from him again.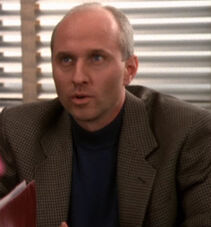 Duke was absent a long time, later returning in Season 8 with a different actor in the role when the Peach Pit After Dark had been opened. Nat warned him to stay away from the place, but had zeroed in on Valerie Malone. He made a deal with her to cut her in on any profits he made while in her place and she accepted.
When Noah Hunter found out about the deal, he confronted Duke and told him to stay out of his club before he returned all of the money that had already been bet.
After the confrontation, Duke approached Valerie and made an arrangement for an associate of his to pick up the money. However, the associate turned out to be an undercover cop and Valerie and Noah were placed under arrest.
Ad blocker interference detected!
Wikia is a free-to-use site that makes money from advertising. We have a modified experience for viewers using ad blockers

Wikia is not accessible if you've made further modifications. Remove the custom ad blocker rule(s) and the page will load as expected.