Ad blocker interference detected!
Wikia is a free-to-use site that makes money from advertising. We have a modified experience for viewers using ad blockers

Wikia is not accessible if you've made further modifications. Remove the custom ad blocker rule(s) and the page will load as expected.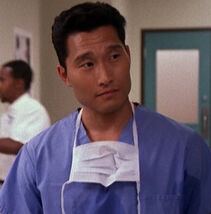 Dr. Sturla was a recurring character played by Daniel Dae Kim on Beverly Hills, 90210, the first series of the Beverly Hills, 90210 continuity. He appeared in Season 8.
Dr. Sturla was the surgeon who operated on Kelly Taylor after she was shot in a drive-by shooting at the hand of some gangbangers. He saved her life and later saved her once again when a pulmonary embolism became a complication, though he later informed Brandon Walsh that she had amnesia.