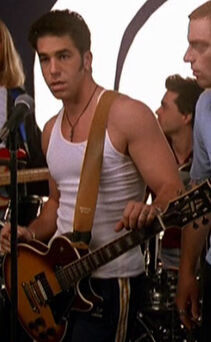 Devin Taggart was a recurring character played by Phil Buckman on Beverly Hills, 90210, the first series of the Beverly Hills, 90210 continuity. He appeared in Season 8.
Devin was the lead singer of Cain Was Abel, a band David Silver was managing. He was repeatedly heard making racist remarks about Jews and Blacks. Although David landed them a recording contract, he became increasingly frustrated with their remarks.
Devin had been hanging around the Beach House as well, annoying Donna Martin by intruding on their time alone. The band had a song that she took offense to and when David tried to stop their performance, they began to trash the club. A brawl broke out and David knocked out Devin while Noah Hunter aided him with the rest of the band. Devin and the band were dropped from David's club and released from his managerial services.
Ad blocker interference detected!
Wikia is a free-to-use site that makes money from advertising. We have a modified experience for viewers using ad blockers

Wikia is not accessible if you've made further modifications. Remove the custom ad blocker rule(s) and the page will load as expected.