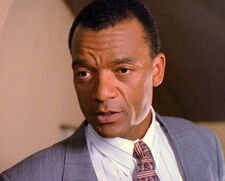 Detective Wylie, played by Nigel Gibbs, was a recurring character seen in the fourth season of Melrose Place, the second series of the Beverly Hills, 90210 continuity. He appeared in Seasons 4 and 5.
Detective Wylie was the detective assigned to the murder case of Bobby Parezi. Although it was Alycia Barnett that killed Bobby, Wylie was convinced that Peter was responsible and pursued him until he caught him, despite Peter disappearing for a time at Willowbridge and being held hostage by Kimberly Shaw. Wylie tried to pressure Amanda into testifying against Peter, but she decided to marry him in jail to prevent that from happening instead.
Wylie later discovered that Peter was not the real Peter Burns and that he assumed another man's identity before coming to California. He had the displeasure of informing Amanda Woodward of this fact.