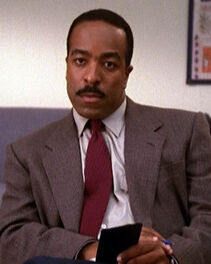 Detective Woods was a recurring character played by Robert Gossett on Beverly Hills, 90210, the first series of the Beverly Hills, 90210 continuity. He appeared in Season 8.
Detective Woods was the detective assigned to the case when Kelly Taylor got shot in a drive-by at the hands of gang members. He was level-headed and good at his job, attempting to calm Brandon Walsh during the investigation. Eventually, the gang member was killed by a rival gang, so Detective Woods closed the case and wished the young couple the best.
Robert Gossett also played Detective Smith on Melrose Place.