Ad blocker interference detected!
Wikia is a free-to-use site that makes money from advertising. We have a modified experience for viewers using ad blockers

Wikia is not accessible if you've made further modifications. Remove the custom ad blocker rule(s) and the page will load as expected.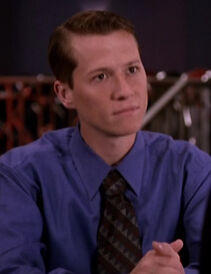 Derrick Driscoll was a recurring character played by Corin Nemec on Beverly Hills, 90210, the first series of the Beverly Hills, 90210 continuity. He appeared in Season 7.
Derrick arrived in Los Angeles after Valerie Malone called Bill Taylor Investments from a phone number she found on Kelly Taylor's card inside her journal. He claimed to be an employee of Bill's and wanted to invest Valerie's money overseas for her to gain a profit.
He convinced her to sell the Peach Pit After Dark to David Silver in order to free up her funds, because according to him, Bill wouldn't invest with her for less than a hundred grand.
Derrick then took her money and promised a quick return. He left the country with her money and was identified by Bill Taylor as an embezzling ex-employee. Driscoll was last heard to be somewhere in Europe and never paid for his crimes.