Ad blocker interference detected!
Wikia is a free-to-use site that makes money from advertising. We have a modified experience for viewers using ad blockers

Wikia is not accessible if you've made further modifications. Remove the custom ad blocker rule(s) and the page will load as expected.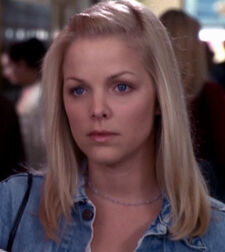 Denise O'Lare, played in by Christa Sauls, was a recurring character seen on Beverly Hills, 90210, the first series of the Beverly Hills, 90210 continuity, appearing in the 9th season.
Denise was a regular caller on the radio which David Silver hosted from The Peach Pit After Dark. One night, while David was working, she came into his booth and flirted with him. They ended up having a one-night stand.
However, she left her pager behind and when it beeped, David called back the number, only to learn from Denise's mother that Denise was only 17 years old. After Denise returned home, her mother decided to press charges against David for statutory rape.
She was later approached by a returning Dylan McKay and told that she's ruining David's life. She stated it was out of her hands. Dylan warned David that he'd better hire Matt Durning, which he did.
Matt interrogated Denise during a deposition, got her flustered, and caused her to storm out of it with her mother in tow. Mrs. Teasley later told Dylan that Denise was a good student, but that she had a bad year, but she thought it was because her parents ignored her.
Dylan later confronted Denise's parents and opened their eyes to their neglectful parenting, telling them his own past story as an example of what kids will do to get noticed by their parents. Denise later got her parents to drop the charges.