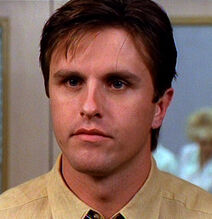 Dave Erickson, played by Rob Youngblood, was a recurring character seen in the fourth season of Melrose Place, the second series of the Beverly Hills, 90210 continuity.
Dave was a friend of Matt Fielding who took over his social work position at Wilshire Memorial Hospital. he was also gay and took an interest in Matt, though the sentiment was not returned, since Matt was dating soap opera star Alan Ross. Throughout the Matt-Alan relationship, Dave was the sounding board for Matt as a friend.
After the relationship ended, Matt believed Dave to be responsible for leaking the fact that Alan was gay, but it was Alan who had done it himself. Dave told Matt to leave him out of his relationship problems.