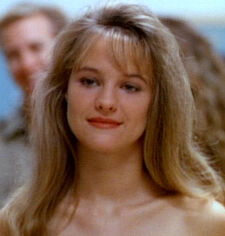 Darla Diller, played by Sharon Case, was a recurring character introduced in Beverly Hills, 90210, the first series of the Beverly Hills, 90210 continuity, appearing in season 1.
Darla was one of the most popular girls at West Beverly Hills High School in season one. She was first seen as portraying the fictional Janine, a character in the screenplay written by Roger Azarian, who doubled as Robert.
Later, however, Darla was seen as the object of desire for Steve Sanders. Steve asked her to go to the spring dance, but she wouldn't go with him because she didn't like his Corvette.
Ad blocker interference detected!
Wikia is a free-to-use site that makes money from advertising. We have a modified experience for viewers using ad blockers

Wikia is not accessible if you've made further modifications. Remove the custom ad blocker rule(s) and the page will load as expected.