Ad blocker interference detected!
Wikia is a free-to-use site that makes money from advertising. We have a modified experience for viewers using ad blockers

Wikia is not accessible if you've made further modifications. Remove the custom ad blocker rule(s) and the page will load as expected.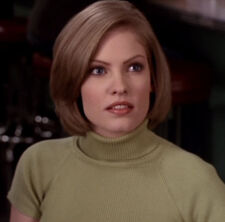 Darby Shahan, played by Jill Bennett, was a recurring character seen on Beverly Hills, 90210, the first series of the Beverly Hills, 90210 continuity, appearing in the 10th season.
Darby was a former California University alumni, who was on the gymnastics team, and was hired as a nanny for Steve Sanders and Janet Sosna to take care of Madeline Sanders. At first, she seemed innocent and sweet.
However, after she went on a date with Noah Hunter, she soon showed her sexual side, seducing him with whipped cream and chocolate. When Noah told Steve about the encounter, Steve remembered having a one-night stand with her in college.
When Steve told Janet, she politely fired Darby, but Darby didn't even remember Steve, which wounded his ego.