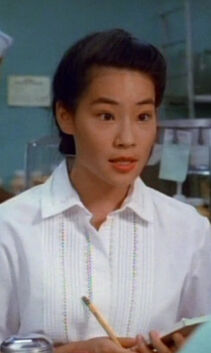 Courtney, played by Lucy Liu, is a character seen on Beverly Hills, 90210, the first series of the Beverly Hills, 90210 continuity.  She appeared in the episode Pass, Not Pass.
Courtney was Brandon's replacement at The Peach Pit after he quit without notice to go work at the Beverly Hills Beach Club. She was very thorough at her job, but ended up being just a temporary replacement. Brandon reclaimed his job after Courtney left at the end of the summer.
Ad blocker interference detected!
Wikia is a free-to-use site that makes money from advertising. We have a modified experience for viewers using ad blockers

Wikia is not accessible if you've made further modifications. Remove the custom ad blocker rule(s) and the page will load as expected.