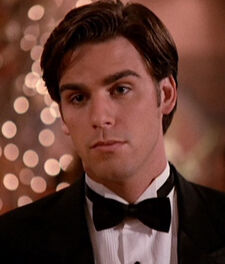 Cooper Hargrove was a recurring character played by Christopher Orr on Beverly Hills, 90210, the first series of the Beverly Hills, 90210 continuity. He appeared in Season 8.
Cooper was a rich client of Donna Martin and Valerie Malone when they first started working after college. However, he took interest in Valerie and began pursuing her romantically. Although Valerie was more attracted to Noah Hunter, she was attracted to Cooper's wealth over his personality.
Cooper invited Valerie to the Harvest Moon Ball, an event in which Kelly Taylor's foundation was putting together. At the ball, Valerie was caught between both Noah and Cooper when each arrived and learned of the other. They both dumped her on the spot.
Ad blocker interference detected!
Wikia is a free-to-use site that makes money from advertising. We have a modified experience for viewers using ad blockers

Wikia is not accessible if you've made further modifications. Remove the custom ad blocker rule(s) and the page will load as expected.