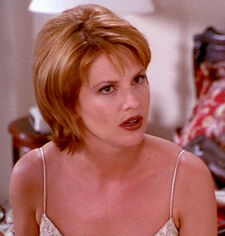 Connie Rexroth, played by Megan Ward, was a recurring character introduced in Melrose Place, the second series of the Beverly Hills, 90210 continuity. She appeared in season 6.
Connie was an old friend of Samantha Reilly who attended art school with her. She arrived in Los Angeles to be the maid of honor in the wedding between Samantha and Billy Campbell. She seemed to have a problem with their wedding, often trying to poison Samantha's mind against Billy.
After Billy and Samantha went on their honeymoon, Connie got a job at Amanda Woodward Advertising as a temporary replacement for Samantha. From then on, she was always trying to drive a wedge between Billy and Samantha. She purposely tried to seduce Billy by tempting him in various ways, eventually getting Billy to make a pass at her, which she reported to Samantha.
Later, after her girlfriend showed up looking for her, it was revealed that Connie had been in love with Samantha the entire time and was trying to get Sam for herself. After she told Samantha of her true self, she moved back to New York.