Ad blocker interference detected!
Wikia is a free-to-use site that makes money from advertising. We have a modified experience for viewers using ad blockers

Wikia is not accessible if you've made further modifications. Remove the custom ad blocker rule(s) and the page will load as expected.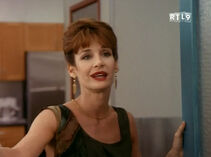 Claudia Van Eyck, played by Mary Crosby, is a recurring character seen on Beverly Hills, 90210, the first series of the Beverly Hills, 90210 continuity.  She appeared in Season 6.
Claudia was an art dealer from New York that had a sexual relationship with Colin Robbins in order to finance his art, much to the chagrin of Kelly Taylor. After Kelly voiced her disapproval, Colin broke it off with Claudia.
In the season 6 finale, Colin called Claudia out of desperation and told her to wire the money she owed him. She was snarky, but told him she would do it, but told him not to ask for more.