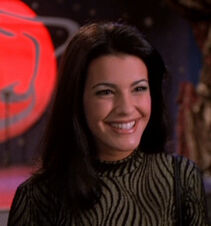 Chloe Davis, played by Natalia Cigliuti, was a recurring character seen on Beverly Hills, 90210, the first series of the Beverly Hills, 90210 continuity, in season 7.
Chloe was a backup singer of a band that performed at the Peach Pit After Dark who wanted to branch out onto her own. She asked David Silver to review her demo and he was impressed. She had a passion for music and dropped out of college to pursue her dreams, causing her parents to disown her.
She eventually made a play for David and tried to give his girlfriend, Donna Martin, the impression that they had been more than friends, but ultimately, David and Donna remained together.