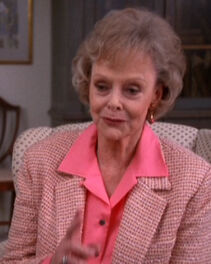 Celia Martin was a recurring character played by June Lockhart on Beverly Hills, 90210, the first series of the Beverly Hills, 90210 continuity. She first appeared in Season 7.
Celia was the grandmother of Donna Martin and the mother of Dr. John Martin. She met her husband, John Martin Sr., during World War II and just before Pearl Harbor. They were married about a week before John shipped out. They continued to correspond after he left and John was born before he was killed in action.
In season 8, Celia passed away in the hospital.
Ad blocker interference detected!
Wikia is a free-to-use site that makes money from advertising. We have a modified experience for viewers using ad blockers

Wikia is not accessible if you've made further modifications. Remove the custom ad blocker rule(s) and the page will load as expected.