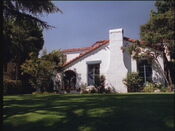 Casa Walsh was the main home setting of Beverly Hills, 90210. Its original residents consisted of Jim and Cindy Walsh and their children, Brandon and Brenda. Each member of the family moved away upon leaving the show, Brandon being the last.
At the end of the series, Steve Sanders, a Walsh family friend, lived in the home with his wife Janet and their daughter Madeline. The address is 953 Hillcrest Drive, Beverly Hills, CA 90210.
Tenants
Trivia
In The Green Room, the address was listed as 933 Hillcrest Drive, but in Smashed it was said to be 953 Hillcrest Drive.