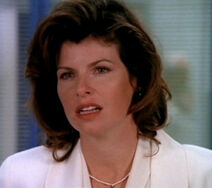 Carol Graham, played by Dana Sparks, was a recurring character seen on Melrose Place, the second series of the Beverly Hills, 90210 continuity. She appeared in season 3.
Carol was the wife of Dr. Paul Graham. After her husband had an affair with Matt Fielding, she confronted Matt at the hospital and reemed him for "seducing" her husband.
Later, she was murdered by Paul, but he had orchestrated the whole ordeal in order to frame Matt for her murder.