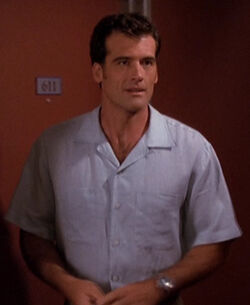 'Carl Schmidt', played by Bruce Thomas, was a recurring character on Beverly Hills, 90210, the first series of the Beverly Hills, 90210 continuity.  He appeared in season 9.
Carl was the fiance of Abby Malone. He was a Buffalo police officer for seventeen years and an avid golf fan. Valerie Malone did not approve of his relationship with her mother and the two squabbled at first.
Carl had killed a man named Robert Mendoza during a break-in in self-defense and revealed this to Valerie after she asked if he ever killed anyone. As a result of this confession, Valerie softened to Carl.
When Carl and Abby flew to Las Vegas with Valerie and Kelly Taylor for the wedding, Carl and Valerie spent time together, eventually sleeping together the night before the wedding.
Carl went through with the wedding, but had the marriage annulled after he decided he wanted to be with Valerie. Valerie, however, only did it to hurt her mother.
Bruce Thomas also played Hank Bradley in Season 6.
Ad blocker interference detected!
Wikia is a free-to-use site that makes money from advertising. We have a modified experience for viewers using ad blockers

Wikia is not accessible if you've made further modifications. Remove the custom ad blocker rule(s) and the page will load as expected.