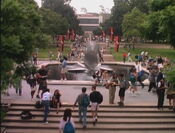 California University is an educational institution introduced in Beverly Hills, 90210 where filming took place at Occidental College in California.
After graduating from West Beverly High, many of the original show's teenage characters began attending CU early in the fourth season.
As with the high school setting, CU became a foundation for many storylines.
Several guest stars played characters who were either troubled or troublesome, prompting certain members of the group to occasionally lend their assistance amidst various matters.