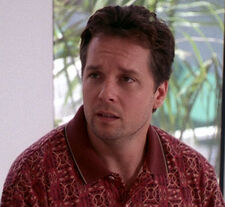 Bob Matthews, played by Tracy Fraim, was a recurring character introduced in Melrose Place, the second series of the Beverly Hills, 90210 continuity. He appeared in season 6.
Bob was the victim of a hit-and-run accident at the hands of Lexi Sterling. After Lexi returned home with blood on her car, Peter Burns went out and found Bob limping down the street and called an ambulance for him.
Peter later took care of him at Wilshire Memorial Hospital, which made Bob a little suspicious. After Bob was released from the hospital, he was caught lurking outside of Peter's Condo. Lexi agreed to let Bob stay at the condo, but Peter was irritated at Bob's presence.
Bob later formed a crush on Lexi. However, he eventually remembered that it was Lexi who had hit him with the car and tried to blackmail Peter into letting him have Lexi to himself. Peter appeared to have accepted his terms, but in reality, he and Lexi had conned Bob into the telling the police that he hid after the hit-and-run, thereby ending any claim the police would have to arrest Lexi.