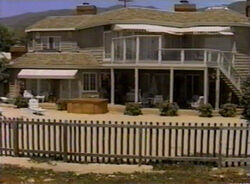 The Models Inc. Beach House was a home introduced in Models Inc., the third series in the Beverly Hills, 90210 continuity.
The beach house was a home to what Hillary Michaels considered her elite or special models. At the onset of the series, Teri Spencer moved out because she wanted to get out of her contract with the Models Inc. Agency. Sarah Owens moved in to take her place just before Teri was murdered.
The house was equipped with a hot tub and had a second floor with a surrounding picket fence. The girls would often sit out by the tub and talk about their issues.
The residents at the beginning of the series were Sarah Owens, Julie Dante, Linda Holden, and Carrie Spencer.
After
Grayson Louder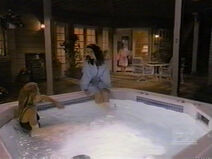 took over half of the
Models Inc. Agency
, one of her first executive decisions was to sell the beach house and kick all of the girls out of it. However, as they were preparing to move,
Craig Bodi
bough the house so they could still live there.