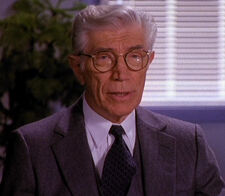 Barry Denoff, played by Joseph Campanella, was a recurring character introduced in Melrose Place, the second series of the Beverly Hills, 90210 continuity, appearing in season 7.
Barry was a member of the board at Wilshire Memorial Hospital. When Michael was accused of sexual harassment by Audrey Williams, Barry refused to back Michael and asked for his resignation without even hearing his side of the story. When Michael refused, he told him he would be fired.
Irene Shulman later tried to ally with Denoff as she tried to get Peter Burns and Michael out of the hospital.