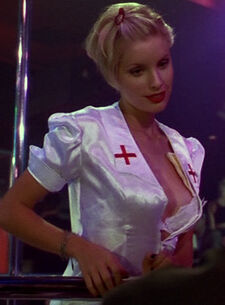 Amber, played by Dawn Eason, was a recurring character introduced in Melrose Place, the second series of the Beverly Hills, 90210 continuity. She appeared in season 6.
Amber was a stripper that Michael Mancini became involved with following his failure to win back Megan Lewis. At first, she didn't want to date customers, but when Michael saved her from a mugger, she had a one-night stand with him. She later gave him her phone number and the two began dating.
However, Amber overheard a fight at The Upstairs between Michael and his sister, Jennifer Mancini, in which he called her brainless. Amber was disgusted by Michael's treatment of her and left. Later, however, Michael showed up at her strip club and begged her quit her job and come with him. She took a chance and did as he asked.
However, things soured between them later on and Amber cleaned out his bank account and stole all of his belongings from the Beach House, skipping town and never returning.
Ad blocker interference detected!
Wikia is a free-to-use site that makes money from advertising. We have a modified experience for viewers using ad blockers

Wikia is not accessible if you've made further modifications. Remove the custom ad blocker rule(s) and the page will load as expected.