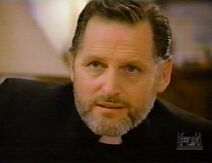 Father Alan Wilson, played by Paul Tulley, was a character introduced in Models Inc., the third series of the Beverly Hills, 90210 continuity.
Fr. Wilson was a priest at the school where Mark Warriner was studying to join the priesthood. He initially met Mark and Sarah Owens while they were doing volunteer work, but after Mark fell in love with Sarah, he decided to leave the priesthood.
Fr. Wilson stopped by to talk with Sarah to try and convince her that she was doing wrong by Mark by taking away a lifetime commitment when she herself couldn't give him one. Sarah began to feel guilty and broke up with Mark so that he'd go back into the school.
Ad blocker interference detected!
Wikia is a free-to-use site that makes money from advertising. We have a modified experience for viewers using ad blockers

Wikia is not accessible if you've made further modifications. Remove the custom ad blocker rule(s) and the page will load as expected.