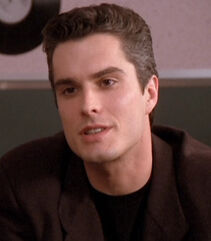 Alan Black was a recurring character played by Rick Hearst on Beverly Hills, 90210, the first series of the Beverly Hills, 90210 continuity. He appeared in Season 7.
Alan was the manager of Rob Andrews, an up-and-coming Hollywood actor. Though he claimed to be looking out for his client, he was really only into it for himself. After he and Valerie Malone disagreed on the direction of Rob's future, he cut a deal with her to steer Rob in the direction he chose.
After Alan exposed his crooked deal with Valerie, Rob fired him.